early Hunters in Angus
Red Castle, in the parish of Inverkeilor
Red Castle was built as a hunting seat by William the Lion in the late 12th century. It was then reinforced and enlarged to meet the challenge of vikings landing at Lunan Bay. It is in the parish of Inverkeilor about 3 miles south of Montrose in Angus. Lunan Bay is certainly worth a stop if you're in the area. Nothing to do with Hunters directly but the area it is in has early connections with Hunterston in Ayrshire.
Andrew Campbell was born around 1319. His father was Sir Duncan Campbell of Reid (red) Castle, and his mum was Susanna Crawford (heiress) of Loudoun (Ayr). A powerful couple and their son was to become a powerful man, too, in his own right. Known as, the Knight of Loudoun, Sir Andrew Campbell also held the office of Sheriff of Ayr.
[In the early years Politics was a fierce subject, I suppose it still is, just nowadays its "handbags at dawn" and "nasty tweets", but in days of old backing the right persons meant advancement while favouring the other team meant loss of livelihood or even worse.]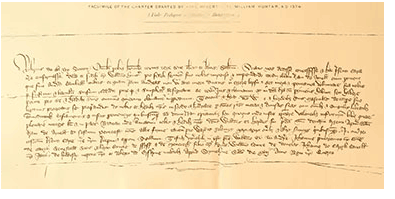 "The earliest Deed (May 2nd, 1374) now remaining in the Hunterston Charter Chest concerns William Hunter and is in excellent preservation, viz. :— Robert, by the grace of God, King of Scots, to all good men of his whole land, clerics and laymen, Greeting: Know ye that we have given, granted and by this our present charter have confirmed to our loved and faithful William Hunter, for his faithful service rendered and to be rendered to us, that whole land of ARNELL with pertinents which belonged to Andrew Cambell, Knight, and which the said Andrew, not led by force or fear nor falling into error but of his own free and pure will, gave up and purely and simply resigned to us by staff and baton and wholly renounced in all time coming for himself and his heirs, with all right and title that he had or might have in the said land with the pertinents : To hold and have .... .....
It is supposed that Sir Andrew, as Sheriff of Ayr, held Hunterston on a "non-entry" control, that is he controlled the estate, on the Kings behalf, after a some sort of misdemeanor. On entry / re-entry an arrears of eleven years blench-duty was recorded as being paid by William Huntar.
A few years earlier, King David 2nd signed two charters at Perth, 8th March 1367:
1 to Robert Stewart of Stanebothie, of the half lands of Reidcastle, in vic Forfar quhilk Andrew Campbell resigned.
2 given by Andrew Campbell, to Robert Stewart, of the lands of Withitoun and Ballendallache within the barony of Reidcastle, vic Forfar.
[ Robert Stewart was part of the Stewarts of Innermeath with extensive land-holdings and connections around Scotland at that time, including Ayrshire.]
The next Charter in the story is number 1222 from King James 5th.
Apud Edinburgh, 15 Sep. 1532 REX confirmavit cartam Roberti Huntar de Huntarstoun, — [qua, pro summa pecunie sibi persoluta, vendidit (familiari regis servitori) WILLELMO WOD de Bonyntoun, heredibus ejus et assignatis,— terras de Inchok, Balblane, Murehousis, Coughoillis, Housefeild et Brwnelandis, in baronia de Inverchallow, vie. Forfare
translated
15 Sep. 1532 The King confirmed the charter of Robert Huntar de Huntarstoun, - [which, for a sum of money paid to him ], sold to WILLELMO WOD from Bonyntoun, his heirs and assigns, - the lands of Inchok, Balblane, Murehousis, Coughoillis, Housefeild and Brwnelandis, in the barony of Inverchallow de vie. forfare;
It is reasoned that Robert Stewart of Stanebothie had got the Hunters from Hunterston to manage the lands on his behalf. In the nearly 200 years that passed they must have worked their way up the ladder.
Another theory I have seen but don't know who wrote it, says; "Archibald, 11th Laird of Hunterston, received lands of Inverkeilor and Kelly in Angus through his wife, Joan Crawford, at the end of the 14th century. She inherited them from her mother, Margaret Douglas, daughter and heiress of Sir James Douglas, of Pierston, Ayr, and Redcastle, Inverkeilor and Kelly, Angus, whose father was Sir William Douglas, natural son of Sir James Douglas of Lothian, who had received the lands from his mother, the daughter and heiress of Stewart of Redcastle, Inverkeilor and Kelly.
In 1442 Sir Archibald Hunter of Hunterston disposed of part of his lands in Kelly, Angus to Sir William Ochterlonie in exchange for part of Ochterlonie's lands in Pierston, Ayr. In the same year, 1442, a William Hunter received and invested in a 1/4 part of the Barony of Inverkeilor. He was a descendant of Hunter of Hunterston.
(equally feasible Sir John Stewart, of Pierston had issue 3 daughters; a) married Sir William Douglas of Pierston; b) married -- Craufurd of Thirdpart and started that cadet line. Thirdpart is a direct neighbour to Hunterston. ~ )
However it came about, in 1532 William Hunter of Hunterston sold lands held around Red Castle in Inverkeilor (Inverchallow).
Video showing Red Castle on Youtube.