Hunter Iron Master
---
I started researching James Hunter of Glenapp, to tell his story, a quick page, then move on. There is not a lot written about him and the deeper I dug the more I needed to dig.
Like opening a can of worms, nice ones though. Five weeks later, three countries visited, three counties checked, 100's census / B.M.D.'s checked, thirty books read ~ skim-read and hundreds of websites perused; I have to call a halt and get this online, allowing me to tackle other topics.
The Glenapp part of James's story is covered on James Hunter of Glenapp.
---
James Hunter (1818-1886)
---
Muirkirk was a tough place to be born. A wilderness in the middle of no-where, not organised enough to be called a town. A survey on Ayrshire by Colonel Fullarton of Fullarton says, "At that period (about 1750) there was hardly a practicable road in the county ........ The farm houses were mere hovels, moated with clay, having an open hearth or fire-place in the middle; the dunghill at the door, the cattle starving and the people wretched.
Then the "Industrial Revolution", came to Muirkirk; railways and a big hunger for coal, tar and iron. This meant they no longer had to try and scrape a living from agriculture, on a landscape, barren because of the minerals lying just below the surface, but can now make a good living digging them out.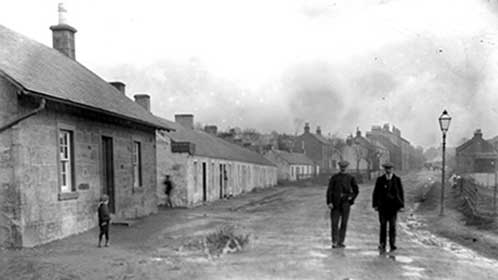 The railway took the products to Glasgow and on to the Empire and also brought in lots of willing workers. The end of the 1700's saw Muirkirk as a boom town, the fastest growing in Ayrshire.
James was born at an early age

, the eldest of the brood born to John Hunter and Jean Finlayson Hunter, who married on the 3rd June 1817 at Muirkirk.
John, originally from Kirkconnel in Dumfriesshire, farmed 60 acres at Low Catcheyburn, Muirkirk, Jean was a local lass.
they begat:-

James Hunter born 22nd February 1818
John Hunter born 22nd July 1819
Elizabeth Hunter born 14th January 1821
Thomas Hunter born 9th December 1822
William Finlayson Hunter born 2nd February 1825
Robert Hunter born 16th September 1827
Robertson Hunter born 8th October 1830
While still a boy, James found employment in the office of the local Ironworks and before he turned 18 he was being referred to as a "Coalmaster" (mine owner). This may not be that a great leap as some pits in these days only had a handfull of workers but it was certainly impressive for a "teenager" in a tough mans world.
Now a guy called Henry Holdsworth (1774-1853) enters the story. Henry was a very shrewd English industrialist, his family had made their fortune in the English cotton industry which had now past it's peak.
. Henry and his family moved up to Glasgow to get involved in the up and coming Iron industry. He started of with the Anderson Foundry and Machine Works in 1823, and then in 1836 he bought land at Coltness.
Henry had three capable and experienced sons but lately their interests were turning elsewhere, causing Henry to look to Ayrshire, for the expertise to get his latest project up and running.
James Hunter was one person he was particularly wanting to meet, having heard good things said of him.
James went to Coltness in 1836, initially as personal assistant to Henry. He assisted in drawing and carrying out plans for the construction of new ironworks. His remarkable energy and ability were soon discovered, and within a couple of years he became manager of the works. Two furnaces were built at first and in 1846 they were increased to six, and ultimately reached twelve.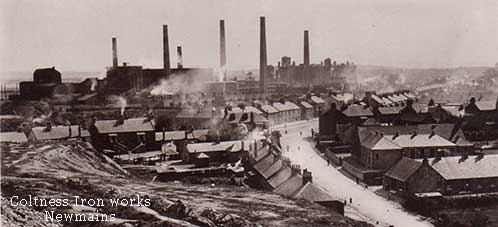 The rise and progress of the works were largely owing to James, though he was cordially supported by the Messrs. Houldsworth.
In 1849 they started the Dalmellington Iron Works, with James's brother John Hunter as manager. Dalmellington became the third largest iron producer in Scotland.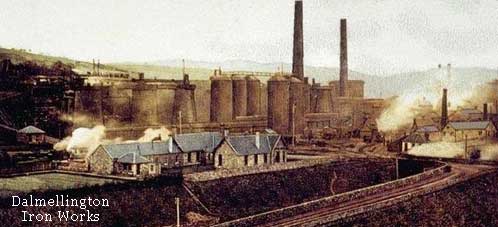 On the 21st August 1851 James married Henry's youngest daughter, Mary Holdsworth. This caused a bit of bad feeling between Mary's siblings who felt she had married below her position but it had the full support of father-in-law Henry.
In 1853, at the age of 35, he was made a full partner of the Coltness Iron Works.
Later that year, on 10th October 1853, at the age of 79, Henry Houldsworth died and is buried in the ruins of Cambusnethan Old Church, near Wishaw.
In 1854 James purchased the property of Auldhouseburn back home in Muirkirk which is about 25 miles south-west of Coltness. Auldhouse-burn is on the estate that adjoins his fathers farm. Shortly after James's brother Robert Hunter is shown as manager of an Auldhouseburn Limeworks.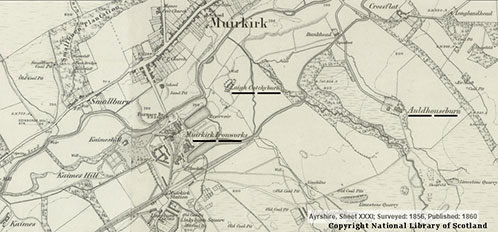 In the same year James is shown as one of the founding members of the Iron and Steel Institute and had a seat on the council board.
By 1860 there were fourteen blast furnaces running at Coltness and Dalmellington, capable of producing about 120,000 tons of pig iron annually.
1864 saw James buying the estate of Glenapp and he started building a fairytale castle. Glenapp is located near Ballantrae in the south west of Ayrshire about 55 miles S.W. from Muirkirk through Dalmellington and a whopping 90 from Coltness, where James lived, worked and spent most of his time. A long way on coach and horses, though James was heavily involved in the planning and funding of a good rail network, initially for coal and iron, so he would probably go by train.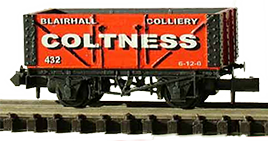 collectors can still buy model
wagons with the once familiar logo.
Glenapp Castle would be the ideal base to entertain and impress for a Justice of the Peace, Commissioner of Supply for the County of Lanark, member of the County Licensing Committee, Director of the Scottish Widows' Fund, and of the National Bank of Scotland, a member of the British Iron Trade Association, the Glasgow Chamber of Commerce, Deputy Lieutenant for Lanarkshire; and soon to be Deputy Lieutenant of Ayrshire. He also had political aims for the future, and in 1868 he was to try for Member of Parliament (Glasgow) but unfortunately picked the wrong party, losing out by 5,000 votes.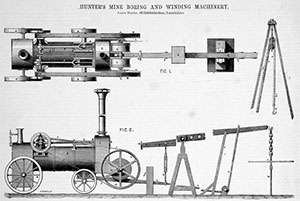 30th October 1866, saw him submitting a patent application for "improvements in machinery or apparatus to be used for excavating and mining."

The newspapers reported on a lecture given by James in 1867, titled Geology, given to a noteworthy crowd at the Coltness Ironworks School. "The walls of the large school were covered with upwards of 300 square feet of highly finished diagrams ... various strata ... on a range of tables several hundreds of rare and valuable fossils ... Mr Hunter gave a graphic analysis of the various theories respecting the coal formation ... The lecture was characterised by deep research, and delivered in a style of eloquence that at once arrested and rivetted the attention of the eager listeners." ~ way to go Jamesy

21st November 1867, his wife, Mary died.
---
part 2
---
1st November 1868, James Hunter, Esq. was declared Deputy Lieutenant of Ayrshire.
On the 1 November 1870, James got married again. In Edinburgh, to Gertrude Leslie Craufurd, age 20, daughter of James Craufurd, Lord Ardmillan, one of the lords of session. Jimmy had no children with his first wife Mary, so had a lot of catching up to do with his new one.
they had:-

Gertrude Theodosia Jane Hunter born 8th February 1872
John Leslie Hunter born 10th January 1873
James Craufurd Hunter born 1st October 1874
Henry Hunter born 7th November 1876, died 1876
Mary Hunter born 1877
Norman McDonald Lockhart Hunter born 20th January 1880, died 1888
Charles Finlayson Hunter born 20th January 1880 (twins)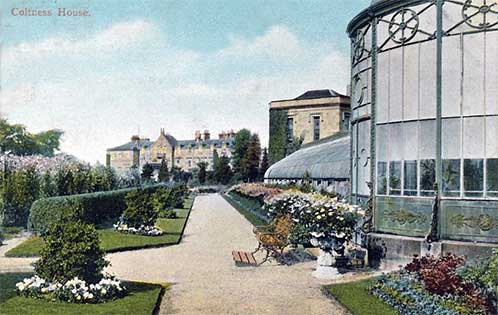 A picture of Coltness House, Newmains where James spent most of his time
and all his children were born.

To help show the scale of the organisation James built, these are some of the mines owned by the company:
at Coltness; - Blairhall, Bailliesmuir, Collyshot, Crofthead, Dewshill, Douglas, Duntilland, East Camps, Foulsykes, Garriongill, Hallcraig, Hassockrigg, Herdshill, Ladylands, Milnwood, Rigside, Ross, Stonecraigs, Sunnyside, Woodend.
and at Dalmellington: - Benbain, Beoch, Bowhill, Burnfoot, Clawfin, Corby Crags, Craigmark, Dallharco, Donnieston, Drumgrange, Drumsmudden, Dunaskin, Holebeck, Houldsworth, Jellieston, Laight, Minivie, Pennyvenie and Sundrum.
Around the 1860's the high grade ore was getting harder to find, some firms tried importing lower quality ore from England or from Spain. James's solution was to buy Spanish mines.

"At the Coltness Works the men are nominally subject to their regulation, but many break through it and put out as much coal as they can... The new colliers houses belonging to these works are remarkable for convenience of internal arrangement. Each consists of two good rooms and a wash house, with every convenience within it. Water is brought to each in pipes. The rent is 1s 6d per week, .. The encouragement to cleanly habits, given by the possession of houses of so much comfort, had produced, or was gradually producing its due effect." .
Mr. Hunter, managing partner, gave evidence to the following effect: "I am managing partner of the Coltness Company. ... Coltness Iron Company have nine works in three different counties, Lanark, Linlithgow and Edinburgh... 2,000 hands employed at New Mains Lanarkshire... We have erected schools which cost us £6,000, and appointed schoolmasters at very high salaries, from £120 to £200 a year. I can show you government reports to the effect that they are the most popular and best conducted schools in Scotland. We have 1,875 children at the schools in connection with our works.....
In 1885 James retired from active management at Coltness.
He died on the 5th October 1886 at his winter residence in Edinburgh.
Family mentions:
Dad, John Hunter died 24th March 1873, at the age of 83.
Mum, Jean Finlayson died 18th March 1885, at the age of 94.
Brother, John Hunter died 18th January 1886, of paralysis, at the age of 66.
1894 family sells Glenapp estate after owning it for 30 years.
Son, 11th March, 1898, "The Bankhead Pit of Auldhouse Colliery, Muirkirk, which was flooded on Friday ... Telegrams of sympathy were received from John Leslie Hunter of Auldhouseburn (at present on the Continent)".
Daughter, March 1st 1899, Gertrude Theodosia Jane Hunter was married to Mr. George Powell, from Glamorganshire, in London.

Wife, 1936 "There was interred in Muirkirk Cemetery on Monday last (22nd June) the remains of the widow of James Hunter of Auldhouseburn. A daughter of the late the Hon. Lord Ardmillan, she died in London on 19th June, aged 86 years."
---
Son, Lt. Col. Charles Finlayson Hunter,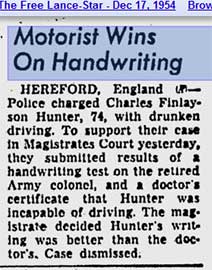 (D.S.O. L.G. 3.6.16); married Nancy Wingrave, daughter of Sir William Cobbett; two s.; educ. Repton; 2nd Lt., 4th D. Gds., 11.2.99; Lt. 10.4.00; Capt. 17.5.05; Major 19.10.13; Bt. Lt.-Col. 3.6.17; Lt.-Col. 3.6.19; served Europ. War, 1914-18; Mons till after Aisne; Invalided; commanded 4th D. Gd~. from March to May, 1915; Staff till May, 1916 ; appointed A.A.G., 5th Army; polo player; in Winning Team Inter–Regimental, 1911; played in most of the leading tournaments in London during four years before the war, including trial matches for American Team, 1914; Mention Despatches four times; Legion d'Honneur.
---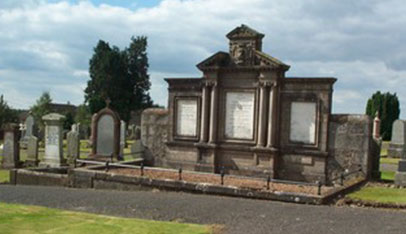 At Muirkirk New Cemetery there there is a large monument to the Hunter family: with James Hunter of Glenapp, together with his two wives, Mary Holdsworth and Gertrude L. Crawford, his son Henry Hunter who died an infant of 19 weeks, Norman McDonald Lockhart Hunter, one of the twins who died at the age of 8, and also his father John Hunter and mother Jean Finlayson. -
---
---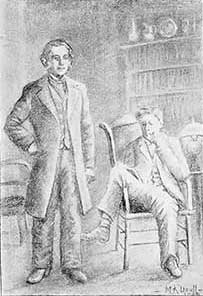 Taken from the book,
The life of a miner in two hemispheres,(free download or read online) an interesting book by a friend of James.
The sketch was of James practising his speeches when he made a bid for parliament.
The author mentions James Hunter of Coltness, and John Hunter of Dalmellington as old friends of mine. The trip to Spain finding suitable mines.
Also mentions of a Colonel Hunter of St. Louis and later Fort Worth. The book was published in 1903 and is an easy read showing a part of mining life in those days.
---
....
---
I am intending to add other parts to this page. Other parts I have collected when researching James. Namely:
John Hunter of Dalmellington
Charles Lafayette Hunter (1839-1902) Tredegar Iron Works, Newport
Col. Robert Dickie Hunter (1833-1902)
James Hunter, Born 1 Dec 1661, Duns, Berwick
James Hunter Whitelaw (1936–2006), engineer, born Newmains
just now, I have other pressing priorities web-wise so must move on. If you have information on these or any Hunters I am interested. If you feel you could contribute a page or add / correct a story, please contact me.