James Hunter of Glenapp
James Hunter of Glenapp (1818-1886)
---
James Hunter started work as the poor office, boy keen to learn, before the age of twenty he had worked his way up to the position of Coalmaster, in a tough industry in hard times. He was headhunted for the position of manager of a new Ironworks struggling to find it's place. His expertise developed the business and he was to become the managing partner with his decisions affecting the lives and welfare of 20,000 people. His quality products became known and sought after around the world.
The furnaces are now long gone, the mines closed and the scars on the landscape mostly covered over or built upon,
the only visible tribute left to James, is one he built himself,
a fairy tale castle called Glenapp.
---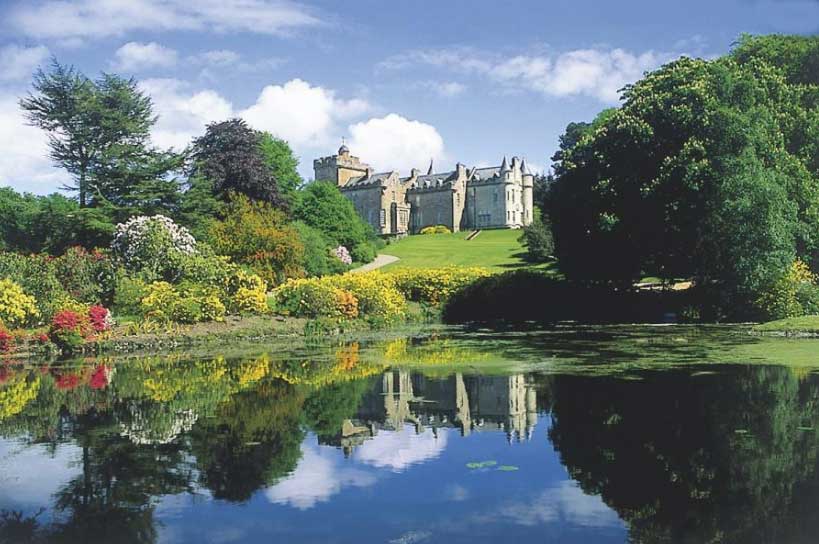 ---
James Hunter was a self made man, no family money to get him started, no record found of university or education but educated he certainly became.
He started work at Muirkirk Iron Works in the town he was born and before the age of 20 he was already accredited with the title of "Coalmaster".
Fast forward now to the 1850's and James was in his mid-thirties. He was married (to his former boss's daughter), a partner in the Coltness Iron Works and now looked on as "one of the Iron Lords of Lanarkshire".
He was living at Newmains House, which also doubled as offices to the iron works.
In 1854 he purchased Auldhouseburn back at Muirkirk, probably more to keep in contact with his family and maybe even to upgrade his parents accomodation. Shortly after that Glenapp estate came on the market in 1864 for a mere £42,000 and James just had to buy it. It fitted in with his life-plans.
He employed the services of the noted architect David Bryce and instructed him to build a castle fit for a Lord Lieutenant of Ayrshire to entertain his social peers in.
On the 8th December 1868 he was created Deputy Lieutenant of Ayreshire. James had arrived.
Glenapp Castle took six years to build and was more or less ready by 1870 - though the newspapers report an unfortunate accident in 1872 where" A steam crane, brought in to work on the new mansion house being erected for Mr Hunter of Glenapp was being fired up when the boiler exploded blowing off the upper part of the man's head. Fortunately the other workmen were far enough away to be unharmed".
This maybe highlights the effort it must have taken with the technology of that time.
James's wife, Mary, died in 1868, before she could see the finished project.
---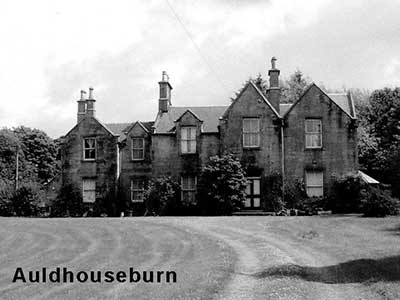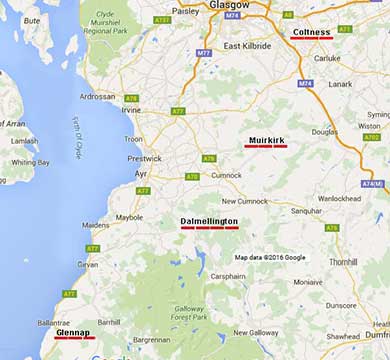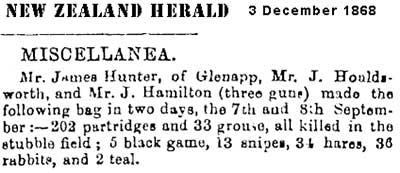 ---
Kyle for a man
Carrick for a coo,
Cunninghame for butter and cheese,
and Galloway for woo'.
Glenapp, a picturesque glen in Ballantrae parish, S.W. Ayrshire, 4 miles N. of Cairnryan, and 6 S. of Ballantrae village. It is traversed by the shallow Water of App, descending from Beneraid 6 miles south-westward to Loch Ryan, and followed over the last 3 miles of its course by the road from Ayr and Girvan to Stranraer.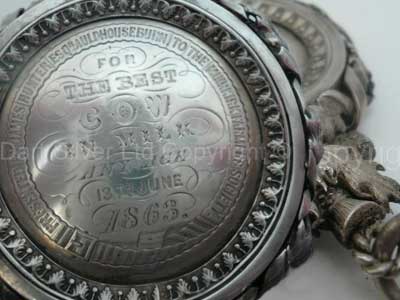 James fitted in well with the "country squire" image, now owning 8,580 acres in Ayrshire. he was a member of the Muirkirk Farming Society and around 1860 sponsored the "best cow in milk" award. He was also a member of the Highland and Agricultural Society and even got a mention in the Farmers Magazine 1869 where he had won an award for one of his horses. .
---
If you would like to read more on James or other Hunters, Iron workers or miners,
please see
Hunter Ironmaster
.
>