The Lairds of Burnside and Dod
there was a documented Hunter presence 200 or more years before in this area. this page shows Burnside which grew from humble beginnings to the most prosperous of all Hunter groups, then they sold up and left ...
1st Laird:
David Hunter was born 1587, married around 1612 and was believed to have had two sons. He died about 1648 and his elder son David succeeded him.
2nd Laird:
David Hunter was born in 1614, He was a Member of Parliament (Scots Estates) in 1643, and is noted as having protested against the delivering up of Charles I. to the English parliament in January 1647. He married Catherine Campbell around 1644 and had seven children. He died in May 1657.
3rd Laird:
David Hunter, eldest son of the second laird, was born in 1646. He married around 1676 and had three sons and three daughters, comprising; Robert the eldest (who took over as fourth laird on the death of his father); Andrew, the second son, died an infant in 1704; David who was son number three, was later to become the Laird number six. David (3rd Laird) died in 20 Sep. 1699.
4th Laird:
Robert Hunter was born in 1677. He took over the lairdship on the death of his father in 1699 and married Allison Graham of Duntroone the following year. Robert died in 1702 and was succeeded by his only son david, still an infant.
5th Laird:
David Hunter born 1701 succeeded as an infant on the death of his father, the 4th laird, David died at the age of six.
6th Laird:
David Hunter born 1681 ( Robert 4th's brother ) succeeded on the early death of his nephew the 5th laird. David was the 3rd son of 3rd laird and died in 1728. However before that happened he married Amilia Graham 8th Oct. 1718, and had five children. The second eldest being the only boy (male entail) who was to succeed as the 7th Laird.
Captain David Hunter was born in 1721. Both Burnside house and Dod house were by now showing their age and in quite a poor condition at that time. David purchased the property of the Grange, Monifieth where he resided with his new wife Barbara Gordon of Abergeldie. In 1744 he sold Burnside, Waltoun and Auchterforfar in the parish of Rescobie and Forfar on the condition that the name of Burnside be changed to Fithie farm. The name of Dod house was then changed to Burnside. This Burnside laird was an ardent Jacobite and fortunately he had signed a missive transferring the estate to his wife Barbara, written at Forfar on the 4th April 1746 (12 days before Culloden) it did also help that Barbara had a few influential relatives and friends. After the disaster that was Culloden there was a witch hunt and a stripping of assets as part of the punishment for those involved. The estates were saved. David died in a duel in 1758 in Venice.
8th Laird:
Charles Hunter, son of the 7th Laird, was born in 1740. He married Hon. Elizabeth Gray of Kinfauns circa 1763 and had eleven children. He became deputy lieutenant of the County of Forfarshire and was the major landowner of the area owning the lands of Balgillo, including North Ferry with fishings, the Grange in Monifieth, the lands of Ethiebeaton and whose estate included the Parish of Barry near Arbroath. Increases in transport and personal good fortune were shared with his children who led adventurous lives. The eldest and next Laird turned out to become General David Hunter; then William Hunter who unfortunately was murdered by Pirates in the Far East in 1790's; John Hunter emigrated to South Carolina after eloping (who caused much scandal after he eloped in the autumn of 1794 with Elizabeth Ballingall.), Dr. Charles Hunter; Nairn Douglas Hunter, Anne Hunter; General George Hunter, Adam Hunter; Mary Ann; Lillias Hunter and Margaret. On the 20th October 1794 there was an order given to Lord Archibald Douglas to raise a regiment of fencible men in Angus. Charles Hunter, who helped to set up the Angus Regiment of Fencibles became Colonel Charles Hunter and was second in command to Lord Archibald Douglas. Charles Hunter built the present mansion house at Burnside on Dod Hill. His son William had wished to have a career in the navy. Charles provided for his training, and financed the purchase of his own ship, "The Dundee", with the East India Company. Tragedy struck in 1794, when he was killed by pirates during an attack on his ship..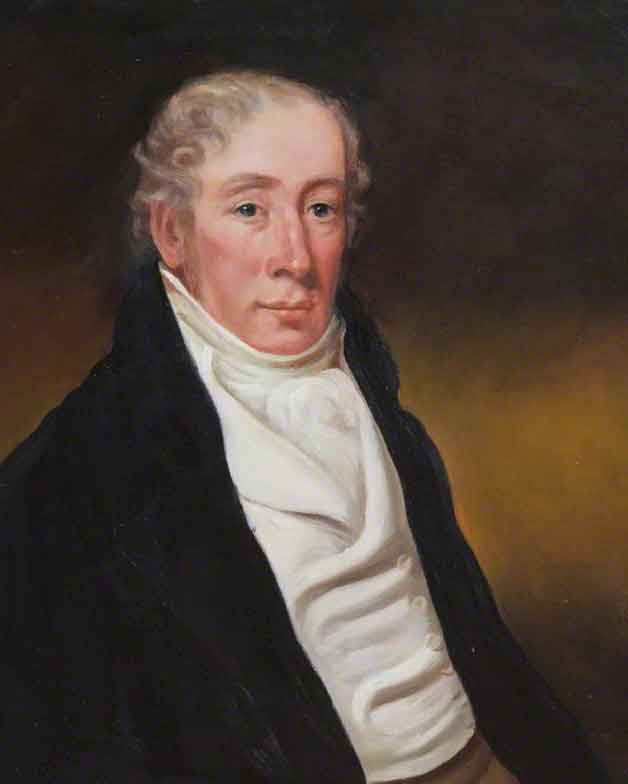 9th Laird:
General David Hunter was born in 1765. He married Margaret Douglas in 1794 and inherited the estate on his father's death in 1809 when he became 9th Laird of Burnside. He was appointed Lieutenant Colonel of the Angus Fencibles, started by his father, on the 20th of October 1794. In 1802 the Angusshire Fencibles were disbanded in Perth on the 19th July. This was in line with a new government idea and David was promoted Colonel and transferred on the 29th of April 1802. He was awarded his Major General on the 25th of October 1809 and Lieutenant General on the 4th of June 1814. The General lived a considerable time at Broughty Ferry, his mansion and grounds being directly opposite the entrance to the North British railway booking office and pier. He owned a large extent of the links of Broughty and was the main force behind the development of the town. Noted as a good sportsman, he had his own pack of hounds, and racehorses. He was said to be the first man to use lime as a fertiliser on agricultural land. His marriage was blessed with eight, possibly nine, children although misfortune meant he was actually succeeded by his grandson. His eldest son, Charles Hunter, died without issue in 1809. His second son, Major William Hunter, had fought in the Peninsular War, and served as military secretary to the Governor of Australia. He then became aide to his uncle, General George Hunter at Scinde, India where he died predeceasing his father. The heart was put into the Hunter family crest with David's marriage to a Douglas. The General died in 1846.
10th Laird:
David Hunter was the eldest child of Major William Hunter who had died at Scinde in 1845. He married Margaret Wemyss Henderson, daughter of the late James Henderson, a merchant or manufacturer from Kirkcaldy. David succeeded on the death of his grandfather but died a year later at the age of 26 at Rushen Abbey, Isle of Man in 1847. His short life and shorter marriage left only one child, an infant, to follow his Lairdship.
11th Laird:
Capt. William George Hunter, 11th and last of Burnside was born at Prospect-hill, Isle of Man, on the 5th May 1847. Born on the year of his fathers passing. He was educated at Eton and Sandhurst. He was Captain in the 69th Regiment and a Captain of the 1st West York Militia also a Justice of Peace for the county of Forfar. He married Isabella Nickey and had eleven children. He sold the estate of Burnside and Dod piece by piece between 1881 and 1883. At the same time as he aquired The Elms at Hunningham, Leamington in the county of Warwick where he retired to with his family. He died in 1936 on the Isle of Man.