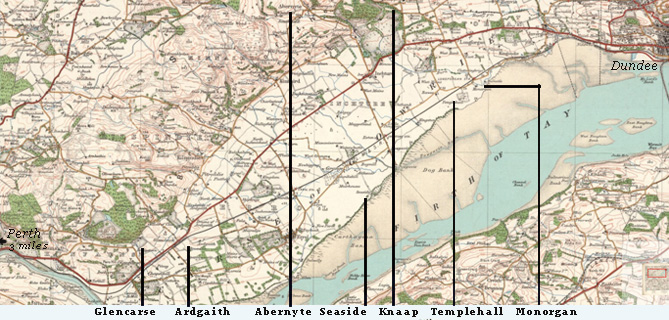 Every couple of months we take a little trip up to Errol.
Errol is in the Carse of Gowrie, which is a strip of land on the north side of the river Tay, between Perth and Dundee.
In real olden times it was probably part of the river, which would explain it being so flat and fertile. Which, indirectly are the two reasons for us to visit. Being so flat it was an ideal spot for an airfield. RAF Errol, was operational 1943 - 48. Nowadays the old airfield has a number of uses, probably best known for it's Sunday market and car-boot sale.
We love a wee stroll through a boot sale and taking our wee boy Bruno with us, are never short of people to chat with. A dog certainly brings out the best in folks.
The added advantage of Errol visits is a bit more Hunter exploring. I have been collecting bits on the Hunter's of Forfarshire for the last 15 years and during the last 4 months have been trying to get it all together to put online. I keep bumping in to Hunter families next door in the "Carse". So when we are there, we have a wee explore for a couple of hours before setting home-ward.
Probably the biggest, internationaly, famous guy is Peter Hunter of Knapp, born 1746. Knapp is a small group of houses in the middle of nowhere but that didn't stop Peter. He joined the army, rising to the rank of General he served as Commander of military forces for Canada and Lieutenant Governor of Upper Canada. His brother John ended up as a doctor in London.
More on the Hunters of Carse (Perthshire)to follow, after I get the Hunters of Forfarshire online.